After School Kung Fu Program
"We're Training Tomorrow's Leaders"
Now accepting applications for school year 2006/2007.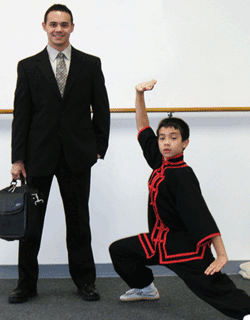 Dear Parents,

Welcome to the Northern Shaolin Kung Fu Academy After School Kung Fu Program, which is designed to meet the increasing needs of the working parent and to provide your child with the following benefits:
The emphasis of our program is to establish Discipline and Courtesy.
 
The program builds Confidence and Character.
 
Kung Fu develops Coordination and increases Strength and Flexibility.
 
Time provided for homework.
What you need to know:
Kung fu class 3 times per week taught by highly qualified instructors
 
Designated homework time
 
Life Skills - Guide the young student through the principles of martial arts to help develop skills for success in life. Focus on values of self-awareness, self-confidence, focus, concentration, and the tools that lead to excellence.
 
ABC's of conflict avoidance
 
Free Kung Fu uniform
 
Student testing and promotions
 
Academic achievement certificates and patches awarded
 
Movies shown on designated days
 
No additional charge for No Shows.
(WE REQUEST YOU CALL ABOUT ABSENCE.)
 
No additional fee for early dismissals
 
Family Discount available
 
Pick up time 6:00 PM. Late pick up plans available
Check out Five Reasons Every Kids Should Be Enrolled.
Registration and Tuition Information:
Visit our location at:

619 S Trooper Rd
Audubon, Pa

We are located behind McDonald's
http://www.northernshaolinacademy.com/
Contact:

Master Norman Smith
610-631-9200
[email protected]
---
CPCMA
Northern Shaolin Kung Fu and Tai Chi Academy promotes the
Children's Personal Conduct Martial Arts training campaign.
Click the image below for more information: