Sifu Don Reynolds
Sifu Don Reynolds had an interest in the martial arts at an early age. His first lessons were in Judo at age 8. He became more serious about training after high school and studied Tang Soo Do. He then later studied Northern Eagle style kung fu and Tai-chi under Sifu Sarah Gelhorn until he moved a year later. Determined to find a traditional Chinese Kung-fu martial arts school, Sifu Don had the fortune of discovering Sigung Norman Smith in November of 2000. He has been training in Tien Shan Pai, Yang Style Tai Chi, Sun Style Tai Chi, Hung Gar, Wushu, Lion Dance, Hsing I (Xing Yi), and Qigong and Meditation based on the Jin Shan Pai (Golden Mountain System) of the Dragon's Gate Sect of Complete Reality Taoism at the Northern Shaolin Kung Fu and Tai Chi Academy ever since, making Chinese martial arts his way of life.
"Finding so many talented Sifus under Sigung Smith such as Sifu Jamal El, Sifu Billy Williams, Sifu Eric Richardson, Sifu Dr. Denise Richardson, and Sifu Louis Diaz was a blessing. I feel very lucky to have not only one, but 6 incredible masters who pass on their art with integrity, care, and respect. Every student is given personalized attention and each instructor offers unique perspectives and experience. I feel a huge responsibility to earn their instruction with patience and extremely hard and diligent training so that I can pass on this great knowledge to others. Training is challenging and sashes are not simply paid for or handed out every few months. I am very proud to be a dedicated student and assistant instructor at the Northern Shaolin Kung Fu and Tai Chi Academy.
The variety of training offered at Northern Shaolin Kung Fu and Tai Chi Academy is incredible. Whether you chose to learn the long range flowing system of Tien Shan Pai, the short/long range powerful Hung Gar system, the internal Tai Chi styles, the entertaining Lion Dance, or the physically demanding contemporary Wushu sets - we have it all. The internal systems such as Yang Style Tai Chi really give me balance and good health. Cross training gives you a new perspective and will really complement your other styles. No matter which system you chose, you will have the ability to learn meditation, proper breathing, stretches and body opening, exercises, traditional hand and weapon forms, as well as two man hand and weapon sets. You are given application for everything shown, which you can only get at a quality school. In addition we have locks and holds, self defense, and sparring lessons as well. You will learn the language, lineage, history, and legends behind everything you are shown. We participate in several traditional tournaments a year as a class, including the international Kuoshu competition. The Northern Shaolin Kung Fu and Tai Chi Academy has everything a person could ask for.
The benefits of training are immediate and obvious. My body has completely changed since I began training with Sigung Norman Smith. I am lean and muscular. I have strong, low stances. I am faster and more flexible than I ever thought possible. I have learned a lot about the human body and how to increase my overall health. I have an outlet to relieve stress, which has allowed me to be more relaxed. I have become 100% more confident. I have learned effective self-defense techniques. Not to mention I have gained an entire school of close friends who are like family to me now.
My attitude and motivations have changed drastically since I started as well. At first I was interested in self-defense and getting in shape. Now I want to work hard to preserve and pass on our traditional styles, and I owe it to my teachers to be an example of how good they truly are. Traditional Chinese martial arts training has helped me tremendously in life. Seeing what I have accomplished in kung fu has given me the confidence that I can accomplish anything to which I fully dedicate myself. I approach everything in life like I do kung fu. The more you give of yourself, the more you will receive in return. I recommend Chinese martial arts to anyone, and if you try Northern Shaolin Kung Fu and Tai Chi Academy you will not be disappointed."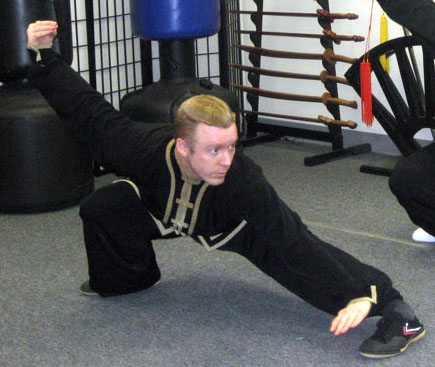 Sifu Don is very interested in the internal and metaphysical aspects of martial arts. He studies western and Chinese medicine, acupoints, elemental energy, yin yang theory, and sound theory as it applies to healing and martial arts. Sifu Don often trains and studies with long time friend Bryan Schultz of the Dillman Karate International pressure point fighting system and certified instructor of the Kiai Jitsu sound projection fighting and healing system. In 2007 Sifu Don was introduced to Taoist body opening, qigong, and meditation and his studies now include various classic Chinese texts including the Tao De Ching and I Ching.
Sifu Don also works as a programmer. He built the Northern Shaolin Academy website with contributions from the instructors and other students. He is constantly working to improve the website and provide as much information to the Internet community about Chinese martial arts as possible.