Sifu Billy Williams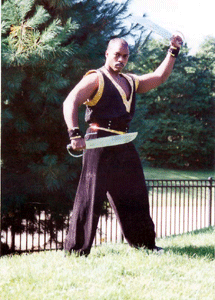 I joined the Northern Shaolin Kung Fu and Tai Chi Academy in 1980, studying under both (Grandmaster) Norman Smith and Shih-fu Thomas Hardy, learning Tien Shan Pai, Hung Gar and Tai Chi. I joined this school to become a good fighter, but I learned much more than just fighting. Master Smith preaches that a good martial arts should be more than one dimensional, a martial arts should be multi- facet by knowing how to fight, forms, weapons, empty hand two man sets, two man sets with weapons and much more. Master Smith took special interest in me (close door) by taking me out to the parks, parking lots and at his home, basically anywhere we could practice privately outside of the school. Now I am one of the instructors and still a student of the arts.
We believe that it is a martial artist duty to pass on his/her knowledge and skills to others, so that their skills will not die with them. There are a few ways to promote martial arts, by opening up martial arts schools, running seminars, martial arts demonstrations, martial arts expos and tournaments. I thought by competing in martial arts tournaments would be a great way of showing people what we do. Our school has been highly regarded as one of the best Chinese Martial arts schools to go to on the East Cost. A School that has been known for its Sparring/ Fighting techniques and a school that continued to teach traditional martial arts.
We have competed locally as well as internationally. Our Master was choosing to be head coach the All Kung-fu team for the U.S.A "Best of the Best" on Comcast. I was fortunate to be able to compete in the Puerto Rico National Kung-fu Championship. I brought home two golds, one silver and one bronze medals. Locally almost every year for the past 20 years I won awards in tournaments such as East Coast Siu Lum Martial Arts Championships, Wong Fei Hung all Kung Fu Championships, U.S.A.W.K.F. Mid Atlantic Region (2) Championships, Raymond Wong Kung Fu Championships, Philadelphia National Karate Championships, Wushu/Kung-Fu Championships, Golden Fist Karate Open Championships, New Jersey Martial Arts America Kung Fu USA Championships, Amerikick National Championships, John Burdycks Maryland Open Championships to name a few...
The Northern Shaolin Kung Fu and Tai Chi Academy is not a school of automatic black belts, where you're guaranteed a black belt in 2-3 years. It's a school where you truly learn real martial arts for life and receive the benefits that will enable you to achieve and accomplish potential goals in life.