Kids Kung Fu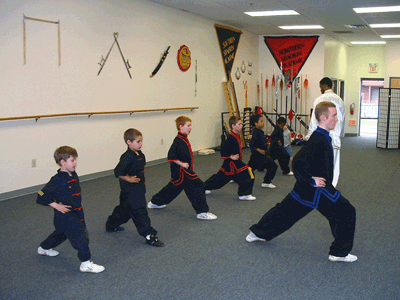 Click here to visit our Kids Kung Fu Gallery.
"Kids Kung Fu is our specialty."
At The Northern Shaolin Academy, we are committed to teaching LIFE SKILLS - patience, focus, kindness, honesty, and respect - along with PHYSICAL FITNESS in a positive and clean environment. We specialize in AGE-APPROPRIATE INSTRUCTION.
Children attending Northern Shaolin Kung Fu and Tai Chi Academy are divided into two different age and skill levels. Classes for children ages 4 and up, are organized by age and skill level. Kids, ages 4-5, attend the "Little Dragons" classes. Older Children students, ages 6 -12, have a Junior curriculum, which includes practical self-defense, Forms, Safety weapons and practical fighting experience.
We have many dedicated children who also enjoy our Wu-shu classes that are offered on Friday evenings. Our Children enjoy all Kungfu workout classes as an extra-curricular sport like no other.
Children are led step by step in the beginning classes by our professional teaching staff. The instructors ease them into the training and help develop their skills, teaching them how to set goals and achieve them.
Many of our kids & teens are testimonials that training at Northern Shaolin Kung Fu and Tai Chi Academy helped them get acceptance into competitive universities.
Kung Fu kids gain many kinds of experiences from the skills learned in class, to the valuable experiences gained by participating in optional extra-curricular activities as parades, tournaments and performances.
Your child will develop concentration, confidence, discipline and respect, while building physical fitness, coordination, and self-defense skills in our safe, fun and positive environment.
Check out Five Reasons Every Kids Should Be Enrolled.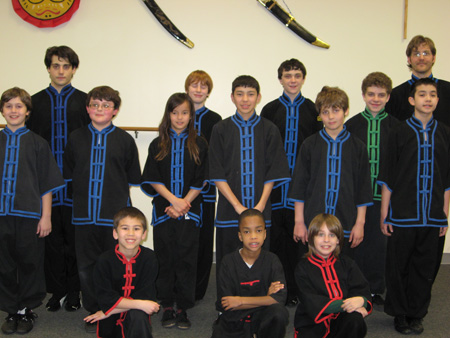 Kids Kung Fu Class - Pandas
This pre-martial arts program, consisting of 2 classes per week, is designed for students ages 3 to 5.
Our program is designed to meet the needs of younger students by developing their attention span and coordination. Classes are scheduled for 30 minutes vs 1 hour for older children. The martial arts drills are kept simple and are interspersed with skill building activities to keep children focused and enthused.

Kids Kung Fu Class - Dragons
This program, consisting of 2 classes per week, is designed for students ages 6 to 8. The class is designed to develop self-discipline, respect for authority figures, physical coordination, and peer socialization skills.
The program focuses on teaching SOCIAL Skills through basic martial arts techniques. During a class, children gain motor-skill development and a sense of confidence within our playful and positive class format combined with technique work. There is Formal Sash Testing.

Kids Kung Fu Class - Tigers
This program, consisting of 2 classes per week, is designed for children and teens ages 9+ who are interested in getting better grades in school, becoming more effective and respectful at home, and developing positive peer groups.
Students learn Leadership Skills and martial arts technique as tools for physical and mental discipline. Students graduate through various Sash ranks, in order to earn their junior black belts. Halfway through the Dragons Program, students are invited into the Black Sash Club for advanced training. There is Formal Sash Testing.
---
CPCMA
Northern Shaolin Kung Fu and Tai Chi Academy promotes the Children's Personal Conduct Martial Arts training campaign. Click the image below for more information: