Sifu Louis Diaz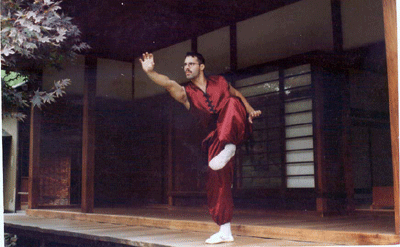 Sifu Louis Diaz is a world champion martial artist. For more than two decades, he has been studying different forms and styles, honing his skills into gold-medal winning form.
Born in New York City, he began studying martial arts at the age of six. He won his first international competition in 1994 in Florida, placing first for his fighting set and first for his Nan-Quan form.
Since then, he's won 72 gold medals during the four years he represented the United States as a member of the U.S team under coach Lu Xiou Ling. His first two years he spent as a starter, followed by two years as the captain of the forms team.
He has represented the U.S. in three international competitions: two World Games and one Pan-American Game.
From 1994 to 1998, Diaz was the national and international All-Around Grand Champion in Men's Contemporary Wushu. During this time, he also took home prizes for his Nan-Quan form, Di-Tang form, traditional Hung Gar, Drunken-style sword, broadsword, staff, fighting set, group form and group weapon form.
Diaz has been featured in 17 different magazines including Inside Kung Fu and Black Belt and has been seen on pay-per-view television, the Discovery Channel, ESPN, and the Kevin Langford Fitness & Variety Show. He has been inducted into three martial arts Hall of Fames and has even been used as a model for characters in video games.
He has studied with some of the best martial artists in the world and the list of his teachers reads like a who's who of Chinese martial artists in America: Norman Smith, Lu Xiao Ling, Li Pei Yun, Li Kam Loung, Nick Gracien, and Pan Qing Fu are just a few.
Additionally, Sifu Diaz is a seventh-generation disciple of the Bak Mei kung fu system, a style rarely seen in the U.S.
He is a member of numerous martial arts federations, including the United International Kung Fu Federation, NASKA, USAWKF, and the NBL. Additionally, he was a "Best Coach" of the NBL nominee in 2000.
Diaz is now the head instructor of the Trenton branch of the Northern Shaolin Wushu Academy under Grandmaster Norman Smith and Sibok Jamal El who have trained him in traditional Hung-Gar, Five Animals kung fu & Tien Shan Pai. Diaz currently is the founder of the Qian Foundation; a non-profit organization dedicated to helping the financially disadvantaged neighborhoods in the Trenton, New Jersey, area.
Styles of martial arts currently being taught by Sifu Diaz are traditional Hung Gar kung fu, contemporary Northern Style and contemporary Yang style Tai Chi Chuan. In addition, Mr. Diaz and his staff can offer classes tailored to individual or organizational needs. Custom programs can include classes in contemporary Southern Fist, Drunken Style, Praying Mantis, Sanshou (an Olympic ground-fighting style), cardio-kickboxing, full-contact or point sparring, Chin-Na, Chi Kung and choreographed fighting sets.