Sifu Jamal El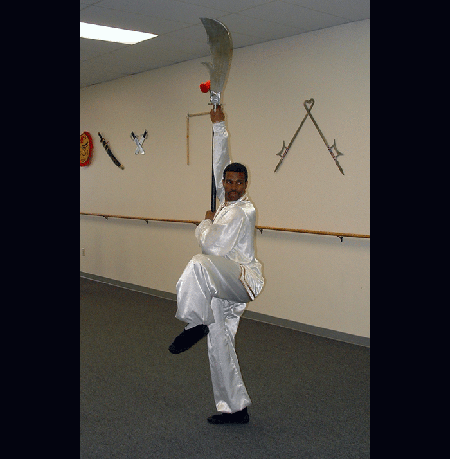 Click here to visit our Sifu Jamal Tien Shan Pai Gallery.

Jamal El has been training in martial arts since 1969. Beginning with Japanese Kempo Karate, followed by the Korean system of fighting known as Tae Kyun. His avid interest in the martial arts soon found him pursuing Chinese Kung Fu.

Under the tutelage of Shih-Fu Abdul Al Malik, he as a youth became a number one student of the Northern Mi Sung Chuan (Lost Track Fist) system. During this same period Shih-Fu Jamal was learning Hung-Gar and Tien Shan Pai (Celestial Mountain System) under Shih-Fu Norman Smith and Shih-Fu Thomas Hardy. By 1976, Jamal began competing in national and international tournaments held along the east coast.

He holds a Fourth Dan in the Okinawan Goju Ryu Karate Do under Shihan Gene M. Holden and a Shodan in Kyokushin Kai Karate under Sensei Anthony Atkins.

Shih-Fu Jamal can be found giving instruction in several different types of martial arts in the Philadelphia, PA area.

Well versed in broadsword, kwan-dao, spear, double-hooks, staff, and many other weapons forms in Chinese martial arts, Shih-fu Jamal has performed in many demonstrations in the Philadelphia/New Jersey area (such as the Chinese Martial Arts Symposium, Freedom Theatre, and he has performed on Visions.) Jamal can presently be found helping his instructor, Sigung Norman Smith, teach at the Northern Shaolin Kung Fu and Tai Chi Academy.
His competitive winnings include:
1976 Master Al Smith Open Karate Tournament
1976 Robert Nenows Open Karate Championship
1977-78 George Dillman's Hamburg Open Karate Championship
1980-81 Master Ric Pascetta's Karate Open Tournament
1982 Golden Fist Karate Championship
1983 Ozzie Wright's Open Championship Tournament
1984 Green Dragons Chinese Martial Arts Championship
1985 Dr. Sun Siu Lum Championship
1986 U.S. Capital Classics Washington D.C.
1989 First Place Winner in fighting at the N.A.C.M.A.F. Championship
Other competitions:
Wong Fei Hung Internationals
Malee Kow Wu-shu Championship
U.S. Kuo-shu Championship
Raymond Wong's Kung-Fu Championship